ABOUT MY HARP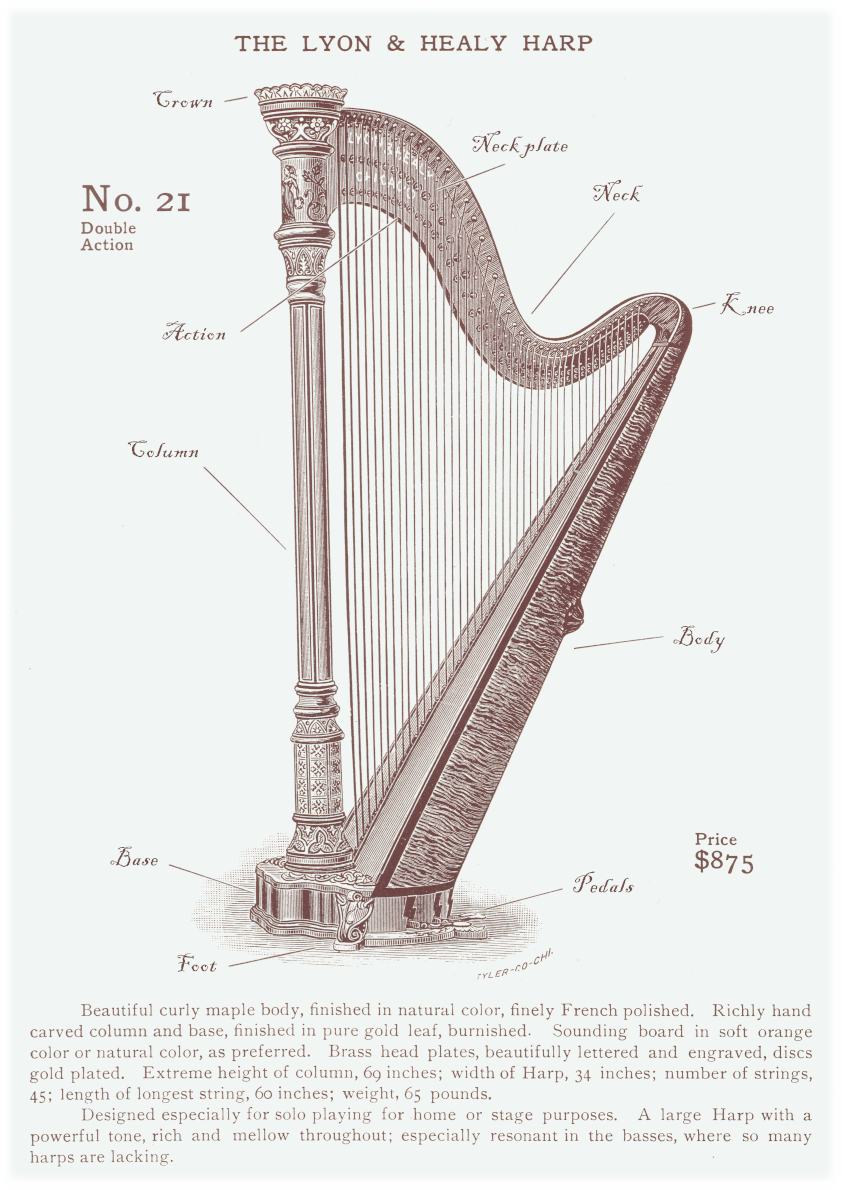 My harp was made some time around 1892 or 3, possibly as late as 1895. I know this because Lyon & Healy, the manufacturers that made it, are still in business.
I called them to get an insurance appraisal, and when asked for the serial number, I said, "It's 142." There was silence while the person on the other end waited for me to say a few more numbers.
"Oh! Your harp is old! Did you know we have a reprint of our 1899 catalog, and in it is listed early serial numbers with the original owners? Her name was Mabelle Lynn Childs."
"What.""
"There's also a picture of her with your harp."
" … "
I ordered the catalog.
Through the other listings of owners, and their testimonials, some dated and referencing a purchase date, I was able to narrow down when mine might have been made. It was definitely made before 1899, when the catalog was printed, and after 1892. Mabelle was teaching music in 1897 and was active through 1909.
(Mabelle has her own interesting story)
The harp had experienced a resurgence (according to the Chautauquan of 1898 v.27) because the recent improvements in the double action harp by Americans. I'm pretty sure this is a reference to Lyon & Healy as they also mention Chicago. L&H had several patents published from 1892 to 1895, which fits.
The improvements they made were things such as interchangeable parts, parts that were adjustable by the performer (thank you!), and structural fortifications. "Other improvements have so greatly lengthened the life of the harp that the best instruments are good for an active service of 100 years".
And here we are.
Harps are under enormous amounts of tension and pressure from the force of the strings. The improvements that Lyon & Healy made were a result of years of working on other manufacturers' harps, and those improvements were to strengthen the harp where they saw frequent structural failures. But those pressure points are still pressure points.
So while mine has lasted, I'm not sure it has really lasted.
I've been told that the base was most likely replaced soon after manufacture. I know the soundboard has been replaced by the person my parents bought it from, likely in the 1970s or 80s. The neck has been replaced while I've owned it. The body has either been replaced or painted - instead of the lovely curly maple, it is a French polished ebony. An educated guess by a harp technician is that this change may have been done when the neck was replaced at an earlier time, to more easily match both the neck and the body colors. Maybe curly maple is hard to find?
So is it the original harp? I think, technically, if it is the original action (the moving metal parts contained behind the neck plate that control the sharping and flatting discs) that has the serial number on it, it is considered the original harp. Like if you have a knee replacement, you're still you. Coincidentally, the knee has also been replaced on my harp.
The action, however, is on its last legs. Metal does tend to stretch over time, and it has been repaired as much as it can be. I have no way of knowing how much longer this instrument will be in service, and I feel so lucky to have this harp and appreciate the limited time I may have with it.